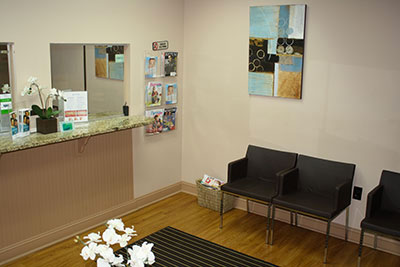 If you are looking for a highly trained and experienced dentist in Elizabeth, you have come to the right place. At our practice, you will receive the highest quality dental care. Our dental office uses the latest state-of-the-art equipment and cutting edge technology and we uphold the strictest sterilization techniques. We know that many people may feel anxious about coming to the dentist, so it is our goal to make your visit with us as pain and anxiety free as possible. We view it as our mission to educate our patients about all of their oral health care options and to help guide them to choose a treatment plan that is most suitable and appropriate for their needs. We treat all of our patients like family.
Scheduling Appointments
To make an appointment, you can call us at the number listed above or click here to Request an Appointment online.
Payment Options
We accept VISA, Mastercard, Discover and American Express credit cards. Please speak to our helpful front office staff for details. In addition we participate with many insurance plans and we have listed a number of the most common insurances we accept below. If your insurance is not listed, please call us to check if we accept it.
We accept CareCredit, AARP Dental insurance Plan, Aetna, Ameritas, Assurant, Careington, Cigna, Connection, Delta, GHI, Guardian, Horizon Blue CrossBlue Shield and Horizon NJ Health Family Care, Humana, Local 472, 210 and many others, MetLife, United Concordia, United HealthCare, In Network most insurance plans and unions.
Quality Personal Care
When you have dental problems, you need to turn to a dentist who listens and responds ... an experienced doctor who knows the field and can effectively diagnose and treat your needs ... a friendly doctor who counsels you on the best ways to maintain and improve your health. Dr. Jacob Plawner meets all these criteria and our dedicated and professional staff will be more than happy to supply you with the individualized attention that you deserve.
Informed Patients
At North Broad Family Dental & Orthodontics, we believe that informed patients are better prepared to make decisions regarding their health and well-being. That is why we've included on this web site a full array of topics associated with dentistry, dental diagnoses and treatments. We encourage you to look through these pages whenever you have a question about your dental care.
Comfortable, Convenient Setting
At North Broad Family Dental & Orthodontics, we strive to make our office as efficient, comfortable and convenient as possible. Our office is a new state of the art facility which is staffed by a professional, caring, well trained team. We know that people do not necessarily look forward to their dental visits, so we strive to make the experience as easy and as comfortable as possible.
Modern Office and the Latest Technology
At our office, we use the latest techniques in a comfortable setting. We also use the latest in sterilization techniques recommended by the American Dental Association. Other new technologies include the latest in cosmetic and implant dentistry.
Convenient Location
Our office is located at 700 North Broad Street, Suite 101, Elizabeth, NJ 07208 with ample patient parking in our lot. Please enter your zip code or city, state below for door-to-door directions.